The W.J. Murphy Company Story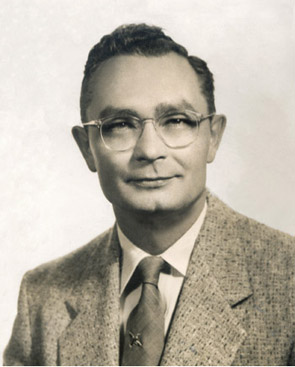 T
he W.J. Murphy Company, based in Asheville, NC, like many enterprises both then and now, began on a kitchen table. Bill Murphy, Sr. was highly creative and an exceptional salesman with a fascination for the Old West. It seems natural that in the 1950s his interests would evolve from toy salesman to toy distributor to toy manufacturer. A focus on model trains and German mechanical toys gave way to a new idea with strong business potential as post-WW II families began to grow, became more mobile, and experienced an increase in their disposable incomes. During that period, merchants on the Cherokee Indian Reservation in Cherokee, NC made their own crafts on the porches of their gift shops as visitors eagerly soaked up the native history, culture, and traditions and clamored for memorabilia to take back home. Brightly dressed dolls made of wood (and even dried apples), feathered headdresses, wooden
tomahawks, and bow and arrow sets grew increasingly popular. Demand began to outpace the ability to produce things
one by one. Bill's plan was to design and mass produce quality souvenirs for wholesaling to the merchants thus providing them both consistency and added inventory for sale. He was one of the first to recognize the need and the first to cater to it.
Not wanting to rest on that success, in 1959 Bill began to explore the creation of cowboy gun and holster sets as an addition to the product line realizing that the same sales channels utilized for the Native American souvenirs could be used. Intense research launched the project and numerous options were created utilizing high quality leather for the holsters and diecast cap pistols from the leading manufacturers of the day: Kilgore, Nichols, Hubley, and Marx. Although some early sets contained Hubley cap guns, Nichols Industries' products became the standard pistol used in each of the various sets because of their realistic detail. His holster designs are unique in their ability to adjust to different sized "cowboys" and the use of a silver Paladin horse head ornament on the front of the holster. By 1960, the gun and holster sets were in nationwide circulation. By 1962, sales in New York and other states were being hampered by the Nichols' cap guns being so realistic that they were being used in holdups and robberies!
As a couple of other companies were doing, the W.J. Murphy Company purchased cap guns from Nichols Industries of Jacksonville, Texas for repackaging and selling in gun and holster sets. However, loyal to his initial vision, Bill wanted to refinish the Nichols' guns to a"true blue"
In the early 1960's , Bill met Colonel Russ Pearson and R.B. Coburn who were partners in the design and construction of three western-themed amusement parks: Ghost Town in the Sky in Maggie Valley, NC; Frontierland in Cherokee, NC; and, Six Gun Territory in Ocala, Florida. Pearson was an Old West historian and master of recreating the architecture necessary for these remarkably realistic frontier towns and Coburn, from Orangeburg, SC provided the resources.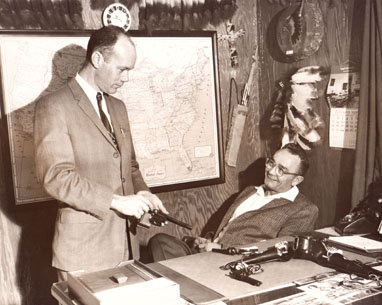 Bill with salesmen looking at early gun sets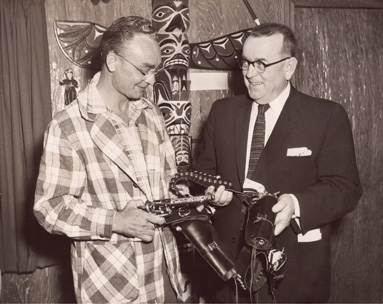 (later copyrighted as "tru-blu") finish and remove the standard, plastic pistol grips. Wooden grips were designed and substituted and the holster sets were sold with a yellow pocket knife for notching the handles after each successful encounter with the bad guys - these "Notch-It" sets were the copyrighted trademark of the W.J. Murphy Company.
He was as much a "fun" purveyor as a "gun" purveyor with a lifelong passion for amusement, particularly relating to children at play, and he found pleasure in finding ways for people to enjoy themselves. At various times he was involved in miniature golf courses, an amusement park with rides, and a miniature train capable of scores of passengers that resided in at least two locations in Asheville before it was sold and relocated to Virginia. In his twenties, he played semi-pro baseball, was a reporter for the West Asheville News, a poet and novelist, and a disc jockey on multiple radio stations.
He was so impressed with the proposition that he leased a storefront in the Mexican Village section at Six Gun Territory while it was still under construction and began planning for a gift shop to sell authentic Mexican merchandise.
At the age of 43, this was a culminating event bringing together all the skills, abilities, and interests acquired during his lifetime. His "Story of Cactus Jack" recording was self-written and, utilizing his radio voice, recorded on 45-rpm records to be sold alongside the Native American and Mexican souvenirs, cowboy gun and holster sets, right there in his amusement park store when it opened February 2, 1963! He died in June 1963, three months after his 45th birthday. The creative spirit that burned within had taken its toll. His wife Catherine continued to operate the business at a level adequate for its survival into the 1970s. The manufacturing building and equipment were sold and leftover material and remaining inventory placed in storage. Catherine passed away in January 2009.
Russ Pearson and R.B. Coburn
Bad guys bite the dust again at Six Gun Territory
Gunslingers and can-can girls
Gunfight in the Mexican village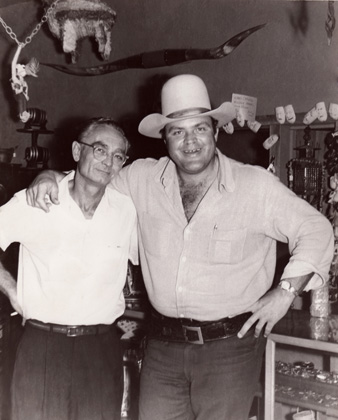 Bill with Dan Blocker, "Hoss" from the tv series, Bonanza, making a celebrity appearance at
Six Gun Territory
B
ill Murphy, Jr. attempted to revive the Indian doll business in the early 1990s and met with little success - the traveling public's expectations and interests had changed and overseas competition had taken over in the twenty intervening years. Two old company names were revived in the process and remain functional and under his control today, the American Indian Trading Company, and the W.J. Murphy Company.
The W.J. Murphy Company achieved immediate success and soon "The Cherokees" Company was established on the Cherokee Reservation to compete with him. Dozens of items from exporters began to flood in as knock-offs and imitations tried to capitalize on his success. His original doll designs were based more on the decorative feathers and beads used by the western tribes as opposed to the more conservative dress of the Cherokees. This would later allow the product line to find a broader U.S. market and even be distributed into Europe as interest in things American, and especially of the Old West, was promoted through novels, motion pictures, and television. He researched and meticulously reproduced genuine artwork and committed to use the highest quality materials and the reliable employees he thought necessary to produce true keepsakes.